FOR IMMEDIATE RELEASE
VICTORIA, BC – This month's election of the first Green Party member to parliament marks a turning point in Canadian politics.  It's not just the make-up of parties that has changed in 2011.  What has also changed are the kind of people who voted and the new ways that election campaigns can reach them.
In what has been dubbed the first "social media election", cutting-edge election tactics are using new media such as Facebook and Twitter to attract a newer, younger and internet-savvy generation of voters.
Facebook campaign expert Ivo Beitsma, whose marketing company PeopleGroup worked on the Green Party's country-wide social media efforts in the weeks leading up to the election, says he won't reveal intimate secrets of the campaign's success.  However, precise targeting – basically, reaching specific groups of people because of their qualities and demographics – played a large role.
People tell Facebook a lot about themselves, including their interests, the books they read, and how they lean politically. Thanks to the way people use Facebook, PeopleGroup was able to put the Green Party's message directly in front of only those it wanted to. "Conservative voters didn't see our messages unless we wanted them to," says Beitsma. "While at the same time, we emphasized environmental messages to those who we knew had an interest in that.  We showed swing voters messages about fiscal responsibility, and so on."  Fans of Margaret Atwood's books were specifically shown a message by the author, endorsing party leader Elizabeth May.
Beitsma saw a relationship between the casting of final votes and his online targeting.  One measure was support for the Green Party compared to the last election.  "Three ridings in the country had a significant surge in Green support, measured in votes," he explains. "And those were the ridings where we pumped our Facebook efforts."
Paul Noble agrees.  Noble is the party's internet campaign coordinator for Saanich Gulf-Islands, which is the riding in which Elizabeth May earned her historic win. Online targeting, he says, was "an important part of the major momentum we received in the final weeks" of the campaign.
Despite powerful targeting, PeopleGroup never saw any private information about users, Beitsma explains.  "It doesn't work like that. We just get to create the message and decide what kind of people see it."  If a message works, its lifetime is extended.  If it doesn't, it can be tweaked in real time, usually minutes.
It's not just a new generation of voters who can be reached using social media.  According to Facebook, there are just over 200,000 people of voting age who log on to use its service in the area immediately surrounding Victoria, and over 65% of them are over age 30.  But Beitsma says that his campaign inspired a meaningful number of new voters, especially those aged 18-21.  "They were inspired anyway, but we reminded them, often, and in sophisticated and varied ways."  He adds that while it's true that there are lots of older people with Facebook profiles, it's the younger generation that spends the most time there. So the campaign's greatest effect was on them.
Social media efforts by the Green Party in this election included a number of ways to gather groups of supporters, encourage them to attend events and spread messages virally, as well as advertisements, he says.  Much of it was already in place before PeopleGroup was hired, and a team of volunteers continued to work in parallel with the company, which has worked on election campaigns before and now specializes in social media.
One such volunteer was climate scientist and part time web designer Trevor Murdock.  By canvassing for the Green party and also being Facebook-savvy, he was able to assist the online effort.  Speaking with people at their doors, Murdock was able to inform the online campaign with messages that he had tested in the field, and which connected well with potential voters.
PeopleGroup's campaign extended across the country with an emphasis on ridings where the Green Party had a good chance.  Elizabeth May ran and won her first term as Member of Parliament for Saanich – Gulf Islands, a riding formerly held by five-term Conservative incumbent Gary Lunn.
-30-
Contacts
Ivo Beitsma      PeopleGroup      Nanaimo, BC      250.751.4864
Trevor Murdock      MoreThanSolutions      Victoria, BC      250.721.5204
Paul Noble      Elizabeth May Campaign      Victoria, BC      250.686.2860
The client's situation: Dr. Allison Rees is a Parent Educator who runs her business from home. The computer she uses was running slowly, files were scattered and getting lost, she needed anti-virus protection, and a system for backing up her files. The website for LIFE Seminars, which is the Parent Education company run by Allison's partner Dr. Alison Miller also needed revamping and updating.
MoreThanSolution: We were able to address all of the items on Allison's home computer – in less than two hours. We removed some programs that started up automatically, using system resources, but that Allison never used. We showed Allison how to clean up and organize her files. We added anti-virus protection and set it up to update itself automatically. And finally, we set up a simple backup system consisting of installing a small spare hard drive and writing an automated task to back up everything of importance: Allison's documents, emails, contacts, and internet favourites. Since it is physically on a separate hard drive, Allison is protected from not only accidental deletion or over-writing of files, but also from hard drive failure.
The LIFE Seminars website is actually the reason MoreThanSolutions was started. LIFE Seminars had a hard time finding a computer consulting company they could trust and that could offer a wide package of services. When we found that out, we decided we should make one.
Client says: "I feel so relieved to know that my work is secured. Even though I spend hours everyday on my computer there is so much that I don't understand about it. If my computer had crashed before, I would have lost everything so it felt like I was walking on a tightrope. The reorganization of my programs and files has saved me a ton of time. Such a tiny investment for such an important part of my working life!", Allison Rees.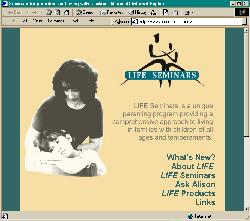 The client's situation: First Metropolitan has an office with eight employees and no budget to hire anyone full time to manage their computers. Over the past six years, the client has needed a network set up, web site hosting and development, miscellaneous computer troubleshooting, training of staff, advice on buying and upgrading hardware, and a coherent plan for managing computer resources.
MoreThanSolution: We have been able to address all of the client's needs, without them having to go looking for specialists in each of the different areas. Through MoreThanSolutions, First Metropolitan has had access to over a dozen different professionals, assigned in each case to match the best consultant to each job. This has allowed the client to meet all of their computing needs within a limited budget.
Trevor has been a valuable industry contact for PeopleGroup. His network of professionals pulls through quality work on time, every time. Trevor cares about his clients' priorities and takes the time to understand them. I highly recommend him.
    –Ivo Beitsma, PeopleGroup
Testimonial: Tell Tom Today
Trevor Murdock of MoreThanSolutions is a bright web designer going places. My wife and I both found him personable and outgoing. He offered credible solutions to our problems. It seemed that he had answers to our questions before we asked. He answered in a professional fashion and still made us feel entirely computer literate by answering in words we could understand. Within two days of putting up our web site, we had our first internet deal.
Since setting up our site the company we work with has made various changes to their web site and their communication protocols. Each of these changes affected our site. Trevor continues to be available and responsive to our changing needs.
We are very satisfied with MoreThanSolutions.