Top ten tips to avoid losses caused by viruses (and other nasties). Note that running anti-virus software is low on the list compared to some much more important steps.
Never open attachments (this includes joke emails) under ANY circumstances UNLESS someone is sending you a file that you WANT on your computer AND you are expecting that file from that person. If someone sends you a file that you are not expecting be suspicious and DO NOT OPEN unless you are sure it was really from them (and not a virus using their email address). See below for particularly dangerous file types. This goes for files sent by instant message software as well.
Be sure that any critical information is being backed up routinely – to a CDROM/DVD or to another hard drive, perferably automatically and daily.
If you suspect you have a virus, they can disable the anti-virus software you have installed, so in this case do a manual virus scan at

Housecall

, or

Norton Anti-virus Scan

.
If you are on cable internet, make sure file and print sharing is off and you are running a firewall unless you are behind a router (and even better – get a router – they are cheaper than recovering from a virus).
Do not visit websites from spam email advertisements.
For Word attachments you can use Wordpad (included with Windows) to open them and this will display almost all advanced formatting in Word, but will not allow viruses to run. To do this, save the attachment then hold down shift and right click on the file and "Open With…" then select Wordpad.
Go to

www.windowsupdate.com

regularly and download all service packs, critical, and security updates (you may have to reboot several times) – you need to do this EVEN if you subscribe to automatic updates. You also need to visit

www.officeupdate.com

(separately).
Run anti-virus software, such as

Avast

 (free). Be sure to have it updating automatically every couple of days and scanning daily.
Use a tool such as

MailWasher

(FreeWare) to intervene before a virus even makes it to your inbox. This particular tool has the added feature of you being able to bounce emails back to spammers which is the best way to get off of spammers' lists.
Use a tool such as Spybot Search and Destroy (FreeWare) or

Ad-Aware

(FreeWare) to remove SpyWare from your computer – ideally, run both.
The client's situation: Dr. Allison Rees is a Parent Educator who runs her business from home. The computer she uses was running slowly, files were scattered and getting lost, she needed anti-virus protection, and a system for backing up her files. The website for LIFE Seminars, which is the Parent Education company run by Allison's partner Dr. Alison Miller also needed revamping and updating.
MoreThanSolution: We were able to address all of the items on Allison's home computer – in less than two hours. We removed some programs that started up automatically, using system resources, but that Allison never used. We showed Allison how to clean up and organize her files. We added anti-virus protection and set it up to update itself automatically. And finally, we set up a simple backup system consisting of installing a small spare hard drive and writing an automated task to back up everything of importance: Allison's documents, emails, contacts, and internet favourites. Since it is physically on a separate hard drive, Allison is protected from not only accidental deletion or over-writing of files, but also from hard drive failure.
The LIFE Seminars website is actually the reason MoreThanSolutions was started. LIFE Seminars had a hard time finding a computer consulting company they could trust and that could offer a wide package of services. When we found that out, we decided we should make one.
Client says: "I feel so relieved to know that my work is secured. Even though I spend hours everyday on my computer there is so much that I don't understand about it. If my computer had crashed before, I would have lost everything so it felt like I was walking on a tightrope. The reorganization of my programs and files has saved me a ton of time. Such a tiny investment for such an important part of my working life!", Allison Rees.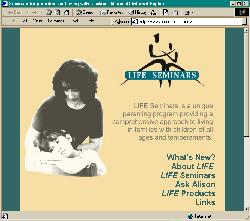 To avoid viruses, be extra careful of the following file types:
.exe .bat .com .vbs .pif .scr are program files and should only be opened if someone is actually sending you a program (which is rare); .zip files are compressed and can be any type thus can also be risky
.doc .xls .pub .ppt .mdb are Microsoft Office files and should only be opened if someone is actually sending you a file
.gif .jpg .png are images and .txt and .rtf are text-only files and are your safest bets (as long as you are up on your windows updates and the extension is the LAST few characters of the file);
.pps and .pdf are presentation formats which are generally safe (but you should still save to desktop and scan before opening)
Spam is unwanted email. There are many ways to avoid spam. However, the effectiveness of each methof varies depending on the type of spam you are getting and how you use your email. We offer custom spam solutions that will give you the most bang for your buck and allow you to get on with reading legitimate email. Contact us to arrange a consultation, or use some of the following free tips and tools:
The best option is to use a learning filter like K9 that learns from its own mistakes as you correct it and results in a custom spam filtering system for you. After 3 weeks of use, I found this program filters ~500 spam messages correctly per week, with only 3-5 corrections (spams not identified as such) needed per week to keep the filters up to date and zero legitimate emails accidentaly filtered. Note: you will need to set up a mail rule to filter your messages into a different folder.
Set up email filters using unwanted keywords and subjects to sort emails into a "likely spam" folder – you can check this occasionally to ensure legimitate emails did not get filtered unintentionally
Filter known email addresses into a "safe" folder
Block senders
Fight back and report spammers with Spam CSI
Hide your address with Spam Motel which is of limited use depending on how you use your email. There are other ways of hiding your email address, including replacing email links on your website with contact forms. Search on google to be sure someone isn't publishing your email address on their website!
Change your email address and notify your friends, then use spyware removal tools from the start and make sure your email address isn't on any websites. Set up an automated response from your old address to phone and obtain your new address.
Server side filtering – depends on your email host but effective methods like procmail and SpamAssassin may be available.
Make spammers remove you by bouncing emails back to them with MailWasher – note this can have unwanted side effects (check with your ISP if they recommend use of MailWasher or not)
Fake warnings about viruses or public safety etc. are all over the internet. Throw in a few keywords from the email into Urban Legends or Snopes and you should get a report on whether it is real or not. If you get no luck there, try Google before calling in the cavalry. If you still have no luck, pass it along to us and we will sort the real from the hoax for you.
Before responding to any internet email, even ones that purport to be asking for donations to excellent causes, or promise to net you great riches if on you give out your credit card or bank info, always check out Scambusters where you can search their library and join their list.
Spyware is software that is installed without your consent. It can send your internet use patterns, and even worse your email address to companies without your consent, who then may use your address to send you spam. My favourite free tool for battling spyware is Spybot Search & Destroy although Ad Aware is easier to use (but less comprehensive in it's protection).
Just like your car, computer needs a regular checkup. This should be done occasionaly for a variety of reasons.
If you have been experiencing major problems, particularly with older operating systems, you might need a fresh install of your operating system. Regular system cleanup can actually prevent the need for the more drastic re-installation.
Examples of work we do during a system clean-up visit:
ensure that you have anti-virus, firewall, and anti-spyware software running properly
ensure automated backup system is in file for files, emails, address book, favourites, etc.
prevent rarely used programs that start automatically from hogging system resources
training on how to more effectively use your computer
Hard drives fail. Viruses hit. Even fire and theft can happen.
You need your data backed up. MoreThanSolutions prefers to set up automated regular backup of not only documents, but the desktop, emails, address book, favourites, and other important files. We can set up our automated system in minutes and we charge nothing for the small program that does the work – only our time. This can also be a small part of a system clean-up.
Planning is essential for everything from a home system to a commercial office. We encourage a yearly computing plan. For a home user this may save you from continually investing in small upgrades just before you realize you want a brand new computer soon anyway. For an office, some planning can ensure you can have all your computing requirements met even though you might not have many (or any) IT staff employed. Please contact us to schedule an appointment to assist you in drawing up a plan if you would like to tap into our years of expertise and knowledge in drawing up (and sticking to) your plan.